Camco has signed a strategic services agreement with Weatherford, a leading wellbore and production solutions company.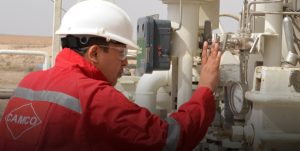 In collaboration with Weatherford, Camco will provide advanced technologies for both cased-hole and open-hole wireline services. Camco will also provide "COMPACT" logging services, a cutting-edge logging technology exclusive to Weatherford.
The new collaboration agreement solidifies Camco's position among wireline service leaders and further increases its market share in the Libyan oil and gas industry. By introducing the unique wireline technologies, Camco and Weatherford will, together, help National Oil Company (NOC) operators and other E&P companies in Libya better understand their reservoir characterization, formation evaluation and more effectively integrate data from different disciplines. Furthermore, the partnership will allow operators to identify suitable technical solutions and field development opportunities to extend the productive life of assets, reduce uncertainty, make better production management decisions, and improve cost-effectiveness.