Last month saw the world's oil and gas industry convene in Abu Dhabi for the industry's biggest conference, ADIPEC.
Now in its 20th year, ADIPEC saw more than 2,200 companies exhibiting with over 100,000 trade professionals from 125 countries visiting the exhibition. ADIPEC's strategic and technical conference program featured more than 900 speakers in 185 conference sessions with 10,000 delegates participating.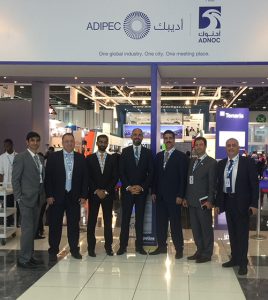 ADIPEC is an essential event for networking and information sharing in the oil and gas industry and this year Edgo, along with its oilfield services subsidiary, Camco, worked closely with our partners at Baker Hughes, a GE company (BHGE). As a newly formed company, BHGE debuted its new products and services at the conference, showcasing its strength as the world's first and only fullstream company.
The Edgo and Camco teams also held meetings with a range of clients, including Tenaris, Rotork, John Crane and Garlock, as well as prospects to discuss upcoming opportunities in the markets where Camco and Edgo operate.
As the end of the year draws closer, many companies were looking ahead to 2018 with positivity. The general feeling at ADIPEC was that the New Year should bring a balance in oil supply and demand and consequently some stability and improvement in the oil price.
Pictured above are some of the Edgo team from across the regions who attended ADIPEC from right: Majed Masri, Majid Ebrahimizadeh, Mohammed Abu-Salah, Mazen Masri, Rakesh Khemar, Issam Hubbi and Abdul Majid Nahas.